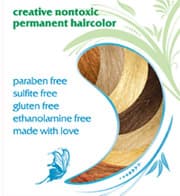 Often immitated and never equaled, EcoColors Hair Color is a permanent non toxic organic hair color system with flax and castor oil, formulated for professional hair stylists. A DIY at Home Kit version is also available.
EcoColors Hair Color delivers professional results with its gentle and nourishing natural base and will restore your hair with a color that is natural looking, shiny and healthy.

EcoColors Hair Color has been created by a Master Hair Colorist in 1991 with more than twenty five years experience in the salon industry. Designed for hair stylists, with nontoxic in mind and the addition of the highest quality natural and organic ingredients, enriched with natural antioxidants, vitamin E, vitamin C, nettles, rosemary, flower essence, grapefruit seed extract, EcoColors has been consistently surpassing its competitors in performance and quality.
EcoColors Professional permanent hair color system is based on the standard Level and Tone system and is available in 24 inter-mixable shades complimented by a range of 5, 10, 20, 30 and 40 Volume Gel Activator Developers and Lightener for stunning blondes to gorgeous reds.
It is easy to achieve amazing natural looking hair colors with EcoColors Hair Color. We also offer Eco Education classes.



EcoColors Permanent Hair Color Key Features:



Professional strength 100% gray coverage


Super conditioning and nourishing soy base formula


Easily produces natural, healthy, shiny results


Contains flax oil, castor oil, jojoba oil


Contains 100% organic flower essences


Vitamins E and C, and natural antioxidants


Create Highlights and Lowlights


In a gel form for easy application


With Silk, to strengthen the integrity of the hair and prevent breakage.


100% natural preservatives


No additives needed


No PPD


No mineral oils


No Heavy metals


No Paraben


No Gluten


No Sulfite


No Ethanolamines or derivatives


No Propylene Glycol


No animal testing

Most people who are allergic to other hair color brands do not react to EcoColors Hair Color. Please follow the recommended allergy patch test according to the instructions because EcoColors Haircolor is not a "cure all" for all allergies.
EcoColors is the only hair color of it's kind in the world and has constantly been fine tuned since 1991, EcoColors Professional Line remains the clear alternative for stylists who wish to go GREEN and reduce their daily exposure to toxic chemicals.

To register and activate your professional account click here

| EcoColors Professional Hair Color | | EcoColors Home Hair Color Kits |